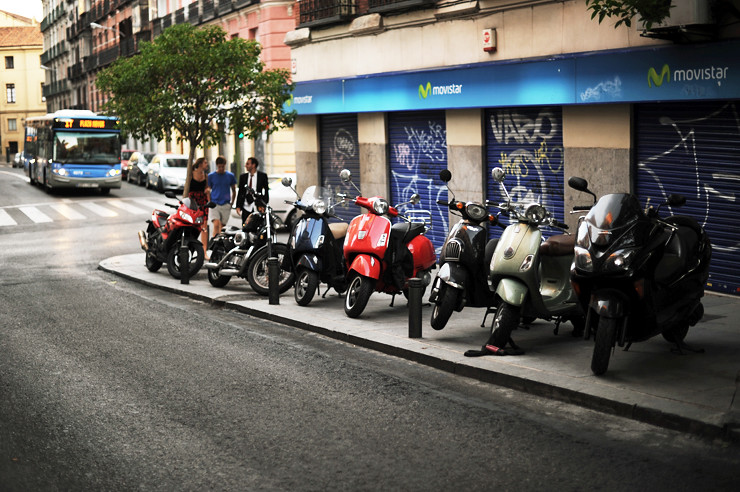 I want to share with you the last part of my pictures from Madrid. During few days we managed to see the old town, because we lived in Posada del Dragon hotel between La Latina station and Plaza Mayor. I love Spain for the beautiful weather, amazing architecture, friendly people, actually I could move there for ever:) The only problem is that Spanish people usually don't speak English and it was a challange sometimes to order a sandwich. But maybe it's a mine problem, because I don't speak Spanish… ? 😉 I wish I could.
Dzisiaj ostatnia część zdjęć z Madrytu. Przez kilka dni udało nam się zobaczyć przede wszystkim stare miasto, bo mieszkałyśmy w hotelu Posada del Dragon (bardzo polecam!) między stacją metra La Latina i placem Plaza Mayor. Uwielbiam Hiszpanie za piękną pogodę, za miłych i otwartych ludzi, w zasadzie mogłabym się tam przeprowadzić na zawsze. W Madrycie jest mniej turystów niż w Barcelonie, mimo, że jest stolicą kraju, dlatego można tu lepiej poczuć prawdziwy klimat Hiszpanii. Minusem jest to, że mało kto mówi po angielsku, więc zamówienie kanapki czasem bywa wyzwaniem:)
I was wearing the golden shorts from Misbehave (I stylized the Misbehave photoshoot for the new S/S 12 collection which will appear on the site today, so stay tuned), H&M mesh top, New Balance shoes and Tommy Hilfiger bag.
Miałam na sobie sobie najwygodniejsze na świecie spodenki z nowej kolekcji Misbehave (już jutro premiera sesji zdjęciowej do najnowszej kolekcji Misbehave, którą miałam przyjemność stylizować:) ), siatkowany top z H&M, New Balance'y i torbę Tommy Hilfiger.
And a few pictures from the Fashion Salade & Aristocrazy photoshoot. I'm in love with that yellow Furla bag and considering buing it, despite the fact the copy of that bag is in the most stores.
Kilka zdjęć z sesji Fashion Salade i Aristocrazy, z której nie mogę jeszcze za wiele zdradzać. Ale musiałam sfotografować najsłodszą torebkę Furla z wiosennej kolekcji, do której zakupu się przymierzam;)
93 comments